SVS Risk Maritime Division delivers comprehensive strategic & critical operational advice to clients in the maritime industry sectors globally.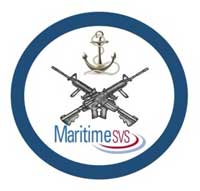 With some of the most experienced Maritime Professionals SVS is a world leader in providing the best Maritime Security Officers and Team Leaders to support your needs at the most cost effect model to ensure that your compliance to industry standards are maintained. From freshly trained personnel who have exceptional military backgrounds we ensure the change is managed to the highest levels to bring you the finest maritime security personnel.
As one of the leading and most experienced providers of manpower supporting the most prestigious Private Maritime Security Companies globally our drive is your standards. Our client list is second to none in this arena and having supported to date over 3000 transits we have enabled our clients to support some of the largest Oil and Gas Companies in mitigating their risk in complex regions of the maritime world.
Our services not only support the Private Maritime Security Companies but also the Shipping Management who employ such security services. Our auditing system allows Shipping Companies to maintain an internal audit compliance system to ensure Private Maritime Security Companies are compliant in their service delivery.
SVS Risk Maritime Division can provide the following services: